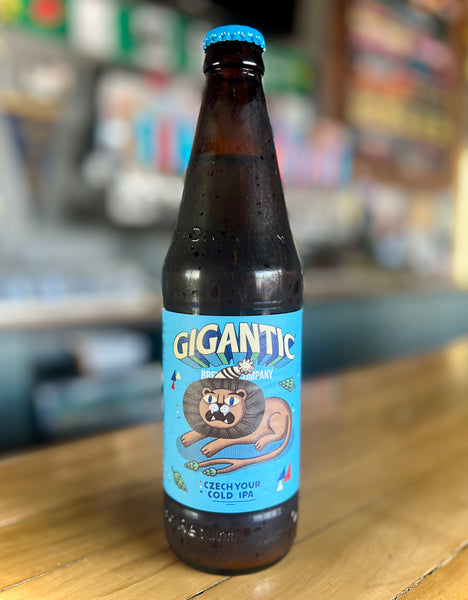 Czech Your Cold IPA- Upright Collabo for PDX Delivery
Gigantic Brewing Company,  with Upright Brewing Company, announces the release of Czech Your Cold IPA - a beer so clean, crisp and drinkable, you'll ask yourself, "Is this an IPA or a Pilsner?"  Upright founder Alex Ganum posed the question of what would happen if we brewed an Imperial Pilsner like an IPA. Would it be a cold IPA? Czech. A Pilsner? Czech. Grab your 'ushanka' and bundle up for an inverted journey around Cold IPA by two of Portland's most nonconforming breweries.  
Czech Your Cold IPA is a Czech Lager made like an ale.  It is a light bodied beer with hints of lemongrass, lemon peel, a quintessential hoppiness, and a subtle dry finish. We used 100% Bohemian pilsner malt to create a clean base, adding Czech Saaz hops and Oregon grown Mt Hood and Crystal hops to invoke the hoppy exuberance of West Coast IPAs. Whereas a standard cold IPA is an IPA brewed more like a lager, our beer is a lager brewed more like an IPA. If you asked us, "Do we like to brew IPAs or Pilsner?" Czech. Czech!

7.2% abv
A single bottle is 16.9 oz and one case contains 12 bottles. You save a bit more than 10% when you buy by the case. 
PLEASE MAKE SURE YOUR ORDER QUALIFIES FOR DELIVERY AND IS IN THE DELIVERY AREA
• MINIMUM PURCHASE OF $50 WORTH OF BOTTLES.
• Portland Metro Delivery is available by our friends at Road Beers on Monday and Friday each week with a $5 delivery fee. Orders made before on Friday, Saturday and Sunday will deliver Monday. while orders made on Monday, Tuesday, Wednesday and Thursday will deliver on Friday. 
• A person who is 21+ with valid ID must be present at the time of delivery
Cheers and thanks for buying Gigantic!
---