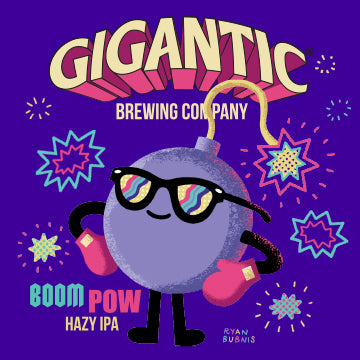 BOOM POW by Ryan Bubnis
BOOM POW by Ryan Bubnis
Beer #112
Gigantic Brewing Artist Label Posters are printed with high quality inks on heavy matte paper, bagged in mylar and rolled in a 3 inch sturdy cardboard tube.
16×16 inches $50 includes shipping (US only)
Each poster comes with 3 Gigantic Brewing stickers!
RYAN BUBNIS

Ryan Bubnis is a multidisciplinary artist, illustrator, and educator based in Portland, Oregon.

Bold, graphic and deceptively simple, Bubnis' imagery lives in the space between the abstract and representational. Equally influenced by DIY culture, art history, illustration, and design, he explores themes of memory, nostalgia, good vibes, and the human condition.

Bubnis has collaborated with a number of commercial clients and agencies and his work has been exhibited across the U.S. and abroad. He is currently an Assistant Professor at The Pacific Northwest College of Art and is usually covered in cat hair.