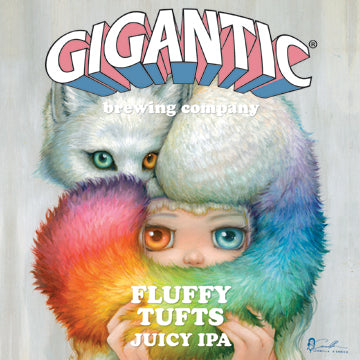 Fluffy Tufts by Camilla d'Errico
Fluffy Tufts by Camilla d'Errico
Beer #75
"Any day now, all the suffering that I knew, will follow through my heart to you" -Cocteau Twins
Gigantic Brewing Artist Label Posters are printed with high quality inks on heavy matte paper, bagged in mylar and rolled in a 3 inch sturdy cardboard tube.
16×16 inches $50 includes shipping (US only)
Each poster comes with 3 Gigantic Brewing stickers!
CAMILLA D'ERRICO
Camilla d'Errico is an Italo-Canadian artist who has been making waves in the fine art and comic industries with her manga-influenced style. Ever the prolific artist, Camilla is comic artist/creator and Pop Surrealist painter, while also contributing to the vinyl art toy movement, and expanding her style into fashion, accessories, toys and other merchandise.
Camilla resides in Vancouver, BC, where she paints and draws comics, and more recently has been working with entertainment companies on feature films and videogames. She has distinguished herself through her ability to seamlessly weave comic art and manga with surrealist elements, wrapping it all together with an extensive emotional palette. Thanks to her relentless energy, dedication, and creativity, she has followed her dream of successfully working creatively for a living.
camilladerrico.com