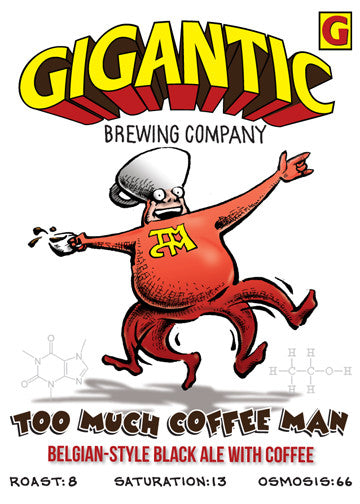 Too Much Coffee Man by Shannon Wheeler
Too Much Coffee Man by Shannon Wheeler
Beer #17
"Alcohol and Caffeine are the yin and yang of modern life." -Sam Hurt
Gigantic Brewing Artist Label Posters are printed with high quality inks on heavy matte paper, bagged in mylar and rolled in a 3 inch sturdy cardboard tube.
16×20 inches $60 includes shipping (US only)
Each poster comes with 3 Gigantic Brewing stickers!
SHANNON WHEELER is the versatile indy comic creator of Too Much Coffee Man. His comics have appeared in newspapers, magazines, comic books and opera houses including The Onion newspaper and The New Yorker magazine. He currently lives in Portland, Oregon with his cats, chickens, bees, girlfriend and children. 
tmcm.com