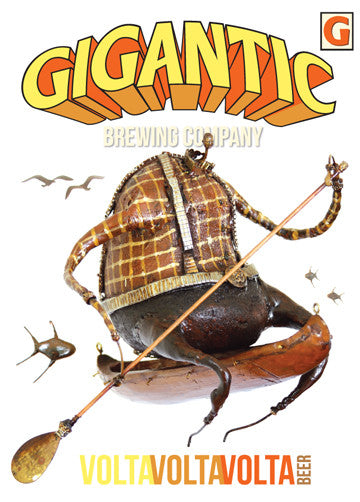 Volta Saison by Joe Shea
Volta Saison by Joe Shea
Beer #21
"May the road rise up to meet you." -Irish Blessing
Gigantic Brewing Artist Label Posters are printed with high quality inks on heavy matte paper, bagged in mylar and rolled in a 3 inch sturdy cardboard tube.
16×20 inches $60 includes shipping (US only)
Each poster comes with 3 Gigantic Brewing stickers!
JOE SHEA lives and creates in Portland, Oregon. He sculpts and constructs unique 3D characters and environments from found objects, trinkets, wood, and paint, that may or may hang from the ceiling or an enclosed diorama on the wall. He also works BIG: on murals of his own design and collaborations with other fine artists. He has 2 cats.
jshea9.com